YALA National Park – Glorious Spectacle of Wildlife…!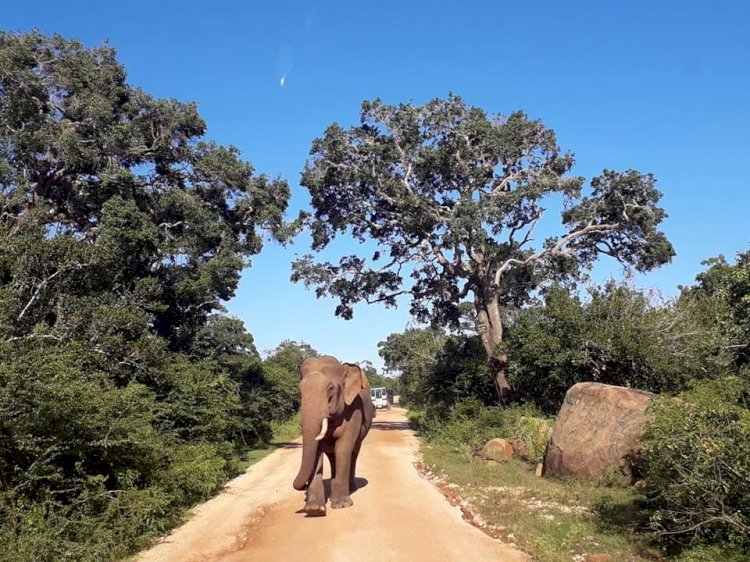 An ecological diversity at Yala National Park is what makes visitors to stopover to ensure BE AT ONE WITH NATURE AND ADMIRE..!. Srilanka visit without a stop-over and safari in the Yala national park, to witness the fabulous jungle book to Life, is incomplete. A home to majestic leopards and one of the best places for sightings of wildlife including but not limited to elephants, buffaloes, leopards, monkeys, crocodiles, spotted deers, wild boars, bears, variety of bird species and what not!
The park is divided in to five blocks - The southern blocks of Yala leads to Block 1 and 2. The northern blocks of Yala leads to Block 3,4 and 5. The main entrance of to the prk is Palatupane gate, 15 km east of Tissamaharama. This is block 1 of the park is the most popular safari area for highest Leopard density. It is said that, Yala is a home to ~350 leopards and about 30 - 40 can be found around Block 1. Access points for the northern block is Galge gates where there are entrances to block 5 (west side of Galge) and block 3 (east side of Galge). There are four entry Gates to the Park. Gates at Palatupana and Katagamuwa leading to Blocks 1 & 2 which are the most visited. However, the two Gates at Galge on the Buttala-Kataragama Road, covering Blocks 3 & 5 are becoming favorites for visitors who doesn't opt for crowd and congestion.
How was my Experience ? – Yala was topping the list of my must visit places in SriLanka and I'm glad that my sojourn to the second largest national park was an everlasting impact.
We entered the park from Palatupana gate as our guide Jagath recommended to visit Block 1 as the chance of spotting leopard is high although its crowded compare to other blocks. We hired a jeep at Kirinda and headed towards the main gate. Paying the fee, the safari has begun. Off course, all need to tighten the seat belt as the entire safari is bumpy ride all the way in a dusty uneven mud road. We were all kept our eyes and ears open to see and hear animals and their sound. There are plenty of jeeps carrying visitors to spot animals. The jeep drivers have good communication protocol via phone and communicate with each other and when one sees a leopard or any another animal, so that the others to rush to the same spot. This will lead in queuing of jeeps, all throttling jeep engines and rushing for the best sighting of the animal. As soon as we entered the park, we have seen peacock freely roaming in the forest. Not just one, we have seen many peacocks on the way. At the waterbody, from the far we were able to see the crocodile on the shore.
Our driver was very experienced, and he made every attempt to spot the animals. After an hour of drive, we have seen a wild elephant coming on the road exactly towards our jeep. What a great moment! I was bit nervous but quickly captured the photo and video. Our driver took reverse and left the pave for the elephant. My daughter was too excited. All the jeeps behind us stopped without troubling the elephant which slowly walked on the mud road and then disappeared in the forest. What a great feeling and sigh!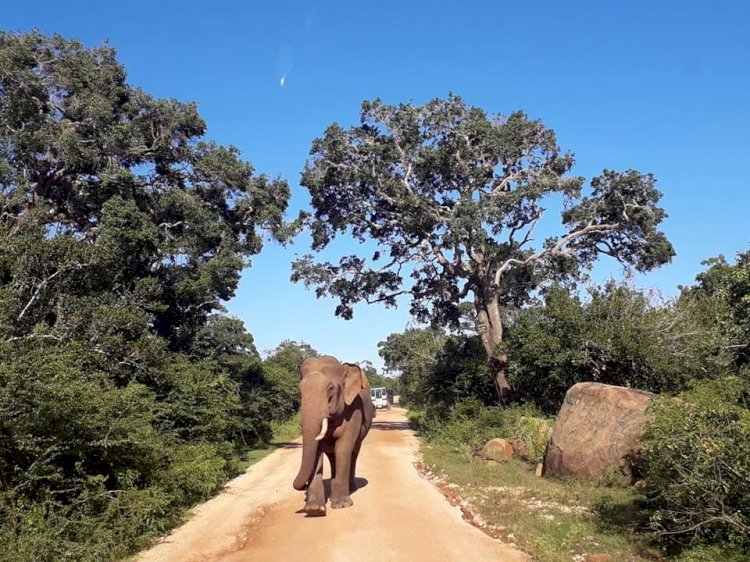 Our driver was keen to help us to spot leopard and took us to a spot where leopard was spotted during morning time safari. We waited for 5-10 minutes to spot leopard. But couldn't.
On the way we were taken to different route which was so silent and no other visitors. Yep, we have seen lonely wild buffalo inside the pond dipping and relaxing..!
Around 5 PM, we went towards the vast wetlands. We have witnessed group of deer's on the water body and couple of elephants in a far distance. Rabbits, Lizard wth a horn - later came to be knwon as Cerataphora ( Our guide said it is rare species) and Mongoose on the way running across were spotted. While returning it was already 6PM. We witnessed the sun set. As soon as we reached the exit of the park, we have spotted few foxes running between trees and may be planning for a haunch!
Not spotted Leopard, But not disappointed...! Yala being the home to leopards, we were not fortunate on that day to spot them. However, we have seen plenty of other animals. You all agree with me that the other animals deserve our attention as well . The memorable safari in a beautiful landscape itself offers a long-lasting memory.
Beautiful Scenery and Landscapes - The whole terrain is beautiful with green forest, water bodies, scrub, grass lands and wetlands. Although we went to see and greet wild animals, the landscape also enriches the safari moment.
My verdict – Well, Yala's ecological diversity makes it worth a visit. I recommend YALA national park to be in your bucket list to have an admirable safari. Although I was not fortunate to spot Leopard, I'm not disappointed and in fact this made me to plan for another trip in coming days!
FACT FILE
Best Time to Visit - To spot leopards the best period to do a safari in Yala National Park is between February to August. Block 1 and 2 are normally closed for a month once in a year, usually in October for maintainace.
Rental rates for Jeep – Approximately half day 6000 LKR and full day 10000 LKR. The rates are for 1 jeep, your group can include up to 6 people for this cost. The park entrance fees cost 6500 LKR for half day and 11000 LKR for full day .The price may vary based on the season and over period of time. Also, no need to book online for the safari in advance.
Did you know?
Forbes recently named Sri Lanka the number one safari destination outside of Africa. This honor comes right after Lonely Planet ranked Sri Lanka as their top destinations to visit in 2019!
Yala is best kept secrets of Sri Lanka. Home for 2 species namely Sri Lankan Elephant and Leopard native /endemic to Sri Lanka, out of Big Five species.
Yala is most visited wildlife sanctuary in Srilanka
Yala is home to 44 varieties of mammal and 215 bird species
Yala has the highest concentrations of leopards in the world