10 Must Visit Ramayana places in Srilanka
More than 5000 year old Indian Epic Ramayana still lives in the hearts of people around the world. There are more than 68 Ramayana sites across Sri Lanka that tell the story of this Epic even today. Here is a chance to live this epic as you walk through temples, mountains, and UNESCO heritage sites in Sri Lanka. In this blog, we are recommending 10 must-see Ramayana Places in Sri Lanka.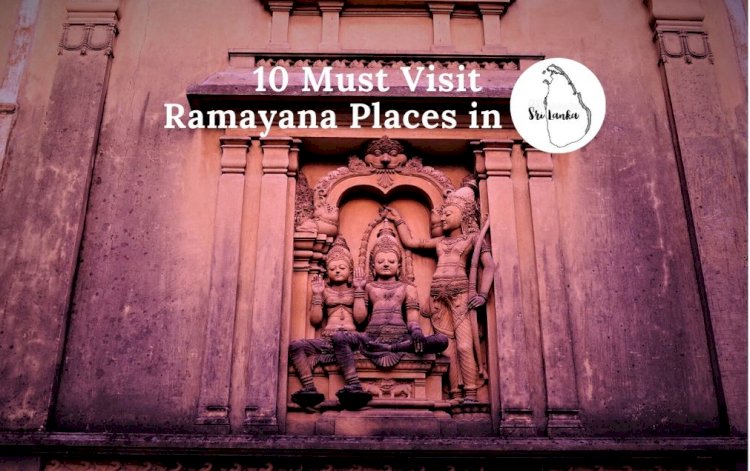 Mural of Coronation Cermony of Vibhishana by Lakshmana on one of the walls of Keleniya Temple - Colombo
It is not just India. Cambodia, Indonesia, Laos, Malaysia, Myanmar, Philippines, Thailand, and Nepal; all these countries also have their own versions of Ramayana. The antiquity and the global reach of the Indian epic Ramayana is truly undisputable.It is believed that almost 5000 years ago, the ancient Indian epic Ramayana was composed by Sage Valmiki. From that point onwards, the stories of this epic have been told and retold and passed down through generations after generations throughout India. Many of the places mentioned in this epic can be still found in India and Sri Lanka.
At least a very small percentage of people might have this question in their mind that what Sri Lanka has to do with an Indian epic. If you are familiar with the story, you must be knowing that the Kingdom of Lanka ruled by King Ravana, mentioned in Ramayana is actually present-day Sri Lanka!Valmiki Ramayana is divided into several Kanda or books. Out of the seven kanda, the two books of Sundara Kanda and Yuddha Kanda are set in Srilanka. More than 50 sites have been identified in Sri Lanka that are mentioned in Ramayana.
Let us now take a virtual trip through the top 10 places out of this 50+ sites that you shouldn't miss during your Ramayana trip in Sri Lanka
1.Ram Setu
Ashoka
7000 years old floating stones are found on Ramsetu, say the scientists behind the show
'What On Earth' broadcasted on Science TV. And this is the very bridge mentioned in the Indian epic Ramayana. Between Rameshwaram in India and Talai Mannar in Sri Lanka, lies this ancient land connection. According to Ramayana, Lord Rama with the support of an army of monkeys built this bridge in order to cross the ocean from present-day India to Sri Lanka to rescue Mata Sita from Ravana, the king of Lanka. Even now one can get a glimpse of what is remaining of Rama Setu. This bridge is also known as Adam's bridge. Talai Mannar in the Northern province of Sri Lanka is where you should visit to learn more about this ancient bridge.
2. Ashoka Vatika
Ravana, the king of Lanka, kept Mata Sita in many of his palaces after abducting her. But it was in this garden she stayed for the longest time. Instead of staying inside the Ravana's palace, she preferred to stay under an Ashoka tree. It was in this same garden Hanuman met Sita for the first time.Even now this is the only place in entire Sri Lanka to find Ashoka trees.
Its present location is believed to be the Hakgala Botanical Garden, in the area known as Seetha Eliya, close to Nuwara Eliya. There is a temple present there now where all these incidents are said to have happened. It is called Sita Amman temple. The footprints of Lord Hanuman can also be seen there.
3. Keleniya Temple
Kelaniya located in capital city of Colombo is important shrine equally for Buddhists and Hindus in Sri Lanka. There are interesting facts between Ramayana tour in Sri Lanka and Kelaniya Buddhist Temple. As per epic, after the death of King Ravana , Vibhishana was crowned by Lakshmana as the ruler of Lanka . So Kelaniya is the place which had been ruled by Vibhishana. The reason Lakshmana crowned Vibhishana in Kelaniya was that Rama had to return to Ayodhya in India, as he had to continue his rule , after self-exile of 14 years to honour the commitment to his father, King Dasaratha of Ayodhya.
Therefore, Kelaniya Buddhist Temple also considered as an important site of Ramayana places to visit in Sri Lanka. King Vibhishana was considered a fair king, a devotee of Lord himself, he took the path of righteousness and as he supported Rama against his own brother's vices.
Many devotees even today visit king Vibhishana 's shrine to pay obeisance to him, as King , asking his intervention to a fair remedy to their problems.
The Kelani River is mentioned in the Valmiki Ramayana as Vibhishana 's Palace was said to be on the banks of river. King Vibhishana is still considered as one of the 4 guardian deities of Sri Lanka, there can be seen many temples for King Vibhishana god (Vibhishana Deviyo) throughout Lanka. It is a fact that there is no temple for King Ravana where as many exist for King Vibhishana . This goes on to prove that his stand towards Dharma and justice made him a god to Sri Lankans. Also Vibhishana is venerated by Sinhalese Buddhists as a God, they believe him to be one of the main protectors of the island country .Murals of crowning of king Vibhishana on the outer wall of temple , is also there giving proof to the epic story of Ramayana and its importance in Sri Lanka.
4. Muneeshwaram
After the gruesome final battle between Rama and Ravana, finally, Rama was able to kill Ravana using Brahmastra, the most lethal weapon of that time and thus won the war. But killing Ravana brought Brahma hatya dosha, a malevolent shadow upon Rama. He could see this shadow following him. In order to get rid of this dosha, Rama stopped at Munneshwaram temple and prayed to Lord Shiva. Even now people believe in the curative powers of this temple and offer small saplings of coconut trees.
5.Manavari Temple
Lord Shiva instructed Rama to install Shiva Linga at a few places as a remedy for Brahma hatya dosha. At Manavari, a few kilometers away from Munneshwaram temple, Lord Rama carved a Shiva Linga out of the sand by his own hands and consecrated it. This is the first place where Lord Rama consecrated the Shiva Linga and it is known as Ramalinga Shiva. If anyone wants to worship at the temple where Lord Rama himself installed a Shiva Linga, Manavari is the place.
6. Rumassala Sanjivani drop
Lord Hanuman and his sanjivani story is quite popular. During the battle, Lakshmana was heavily injured and Hanuman was sent to the Himalayas to find Sanjivani, a life-restoring herb. As Hanuman couldn't figure out the exact herb, he uprooted the whole mountain and came back. On his way back, some parts of the mountain fell at a few places. Rumassala hills is one such place. Exotic Himalayan species found amidst the tropical Sri Lankan vegetation retells you this popular story.
7. Ravana's Palace at Sigiriya Lion's Rock
In the central plains, amidst the thick vegetation, a big boulder stands tall making everything around, especially the humans tiny and insignificant. It takes more than 1200 newly added steps to climb up to the top of this big rock. And on the top lies an ancient fortress and a palace. Originally there were no steps which leads to the top. How did they build the fortress on top of this huge rock without any proper way, still remains a mystery. Sri Lankan people consider this ancient rock fortress as palace of Ravana, the ancient king of Lanka. They also consider this UNESCO World Heritage site as 8th wonder of the world. It is said that Mata Sita was held under captivity here too. This is one place you don't want to miss while visiting Sri Lanka for many reasons.
8. Ravana Ella Cave
Pitch dark tunnels prove beyond doubt the architectural brilliance of King Ravana.Ravana Ella Cave is located close to Wellawaya mainroad in the famous valley called Ella gap about 6 kms from Ella town and panoramic views of Ella valley. The tunnels served as a quick means of escape during attack by eneamy, and transport through the hills, also as a secret hole for passage.Cave can be reached by a flight of 250 steps. They networked all the important cities, airports and dairy farms. A close look at these tunnels indicates that they are man-made and not natural formations.
Existing tunnel mouths are also situated at Ishtripura in Welimada, Senapitiya in Halagala,Labookelle, Gurulupoltha, Wariyapola in Matale, and Seetha Kotuwa, Ramboda in Hasalaka and in many more places even today.
9. Divurumwela, Agni Pariksha place
After prolonged stay under the custody of Ravana, there were rumors about the fidelity of Sita. In order to end any such rumours Lord Rama asked Mata Sita to prove her chastity. Then Mata Sita decided to undergo the Agni Pariksha or the Fire Ordeal. She entered the fire and came out unharmed and thus proved her purity. This whole episode is believed to have happened at Divurumwela. Now there is a temple at this place and it tells the story of Mata Sita's Agni pariksha.
10. Panchamukha Anjaneyar Temple
According to Ramayana stories, the 2000m elevated plateau of present-day Horton Plains in Sri Lanka is the Patal Lok. This high plain is believed to be the Netherworld or hell, the area where Ahiravan, the king of Patala reigned. This is where he had captured and hidden both Lord Rama and Lakshmana. And it is here Panchamukha Hanuman- Lord Hanuman in his five-headed form rescued them and carried them back on his shoulders. In memory of this story, there is a Pachamukha Anjaneya temple built in Sri Lanka. It is the only temple in Sri Lanka dedicated to this form of Hanuman and the only temple in the world to have a chariot dedicated to Lord Hanuman.
These are some of the major places to visit among the 60 + Ramayana sites all across Sri Lanka. To visit the Ramayana places in Sri Lanka.