A Festival of Faecal : Gore Habba
Gore Habba is a festival or ritual in a rural part of Karnataka , it is a unique festival of splashing cow dung on each other. This festival is celebrated a day after Diwali's Balipadyami in the small village of Gummatapura in chamarajnagar district. After the nation-wide celebration of Diwali, the villagers participate in a massive dung fight.It is popularly known as faecal festival.
Gore Habba at Gumtapura
Festival of Lights – Deepavali is celebrated across the globe with much pomp and Splendour every year. For the Villagers of Gumtapura, a small hamlet in Chamarajnagar of Karnataka bordering Tamilnadu, the festival doesn't cease with this festival. A Unique festival with faecal of Cow dung popularly known as Gore Habba is celebrated in the village.
I came to know about this festival through one of my friend festival hailing from Chamaraj Nagar district during a casual discussion on festivity day. Though initially, I felt a bit awkward. I was eager to witness the festival and wanted to be part of it. I landed morning at the village of the festive day, well before the time scheduled to happen.
The village of Gumatapura became the site of a massive cow dung fight, as locals celebrated the day-long Gore Habba festival that takes place every year after Deepavali. All Temples of the village, bullocks and cart will be adorned with flowers and whole village will be in a festive mood. Festival begins with puja of Cows, Bullocks by village chief at Temple of Beereshwara – Lord Shiva. Villagers smeared themselves with cow's excrement, previously collected and piled up, and proceeded to throw it at each other.
Children of all age groups participate, jump on cow dung with glee and have fun. Women cannot participate in the activity, they can just watch it.
Out of curiosity, I questioned about the festival and origin, one of the Villager, he replied " that this faecal festival dates back to his great grandfather's period. He went on to say that "We worship cow and dung is very natural, has a lot of medicinal benefits. Others might say if we throw cow dung at each other we will get some infections or even some disease. But with the trust of our god Beereshwara, we are playing in the cow dung, so nothing happens to us and if we have any health issues that also will be cured."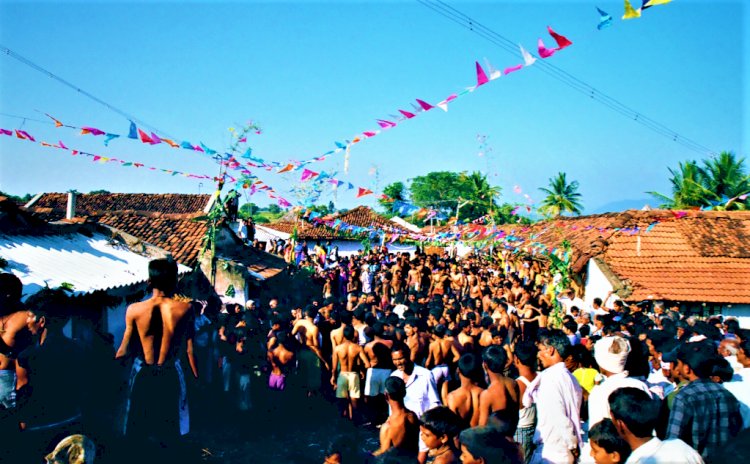 The tradition comes from the belief that the clothes and remains of a saint were placed in a pit in the village, and took the shape of a 'Linga', as abstract Phallic representation of Shiva linga, which became surrounded by cow dung in the course of time. The dung is highly revered by the local deity Kare Eshwaraswamy, according to the villagers, we trust of our god Beereshwara, we are playing in the cow dung, so nothing happens to us,
They who collect the dung and dump it behind the temple. Punishing liars by making them sit on a donkey is also a part of the ritual.
I remembered that sequence from Bollywood blockbuster Zindagi Na Milegi Dobara where all the protagonists attend the La Tomatina festival in Spain, one where everyone plays with tomatoes in streets!
While most of the city-bred would we unwilling to step out just by the thought of stepping into faeces it is unhygienic and unhealthy. The practice and belief of village folk bringing good health and has healing effects, curing any diseases mesmerize us. People in the village believe otherwise. The locals say that not only is cow dung harmless but it actually has the power to cure several diseases.
Cow dung in rural India is used for a variety of purposes, dried dung serves as a fuel, manure and is also used to insulate houses.
Whatever it be, festivals of this kind promote equality and bring harmony. So if you agree that gobar is a sign of good health and want to participate in this gore habba, then you need to wait till next Diwali..!