Badami - Beyond Caves And Temples
Besides Cave and temples Karnataka;s heritage site Badami has around 120 of climbing routes ranging from 4+ to 8b+ and endless potential for crag climbing as well as bouldering, rapelling and trekking activites.. It is a considered as Mecca for climbers , that offers superb rock quality , beckons climbers of all styles and abilities.
Rock Climbing Badami Photo by Sachin
Formerly known as Vatapi, Badami is attracting the attention of tourists from all countries of the world. The Heritage Monument , Badami is a samll town in Bagalkot district of Karnataka situated about 150 km North West of Hampi - A World Heritage site , about 500 kms from Capital city Bangalore.
Badami, was a sprawling capital city during the reign of Chalukyan era in 6th century. It is Known for its Scenic landscape ,Intricate stone carvings with cave temples, and are a masterpiece of Chalukyan Arcthitecture
Badami showcases the origin of temple architecture of India. The cave temples of Badami being the most famous and followed by Bhootanatha group of temples , Museums, sculptures around the Agastya theertha tank, guarded by North and South forts, Sidilpadi a prehistoric rock painting site are some must see places to visit.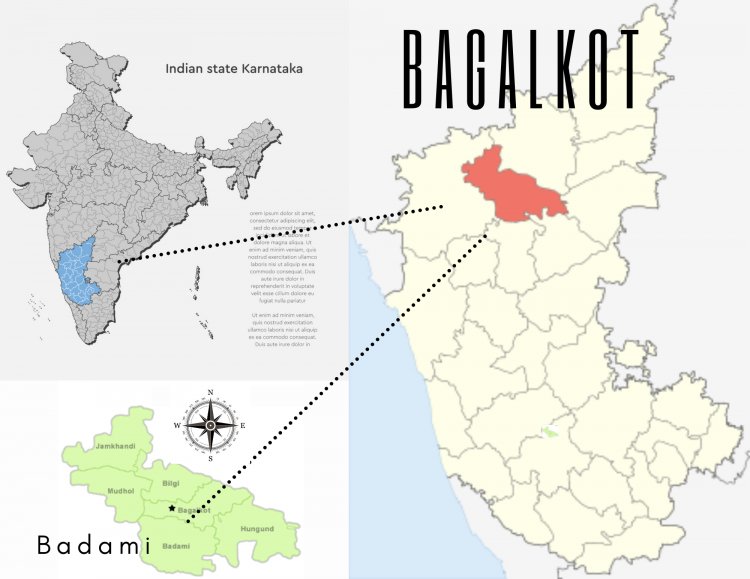 How to get there
By Rail
Badami railway station is located at a distance of 5 kilometres from the town of Badami, trains from major cities regularly halt at this station. However if direct trains are not available, Hubli (100km) and Bijapur (120km) are the major stations nearby from Badami.
By Road
The bus stand is situated at the center of the town. Buses from Gadag, Bijapur and Hospet also halt at the town. Frequent buses ply to Badami from Belgaum, Bengaluru, and Hubli.
By Air
One cal also board a flight to the Hubli Airport(100km) or the Belgaum Airport(150km) and then take a taxi to reach Badami. Other major airports near are Goa (250km), Bangalore(400km), Hyderabad (450km), Mumbai (600km)
Best way to go travel locally or to reach climbing area is to hire a TUK TUK - known as Autorickshaw which is local vehicle for transport
View of Agasthya Theertha & Bhootha Natha Temple Complex
ABOUT BADAMI & BEYOND
Besides Natural History, Badami is home to some of the best sport climbing in India. With routes ranging from 4+ to 8b+, there is something in Badami for every rock climber, amateur to a pro. However, with guide books, a lot of the climbing routes, crags are hidden away amongst the cliffs and temples, we share you knowledge through local guides and who guide and assist you to go around connecting you with your preferred type of climb.
CLIMBING ROUTES
Pictorial Respresentation Below Shows the Various Rock Climbing Pitches / Trekking / Heritage / Cultural Trails / Abseiling
Routes @ Badami
A. Saraswathi Area
Saraswathi area is 700m from Badami bus station towards the north. It is not much explored site for rock climbing. However, the area has huge potential for more than 30 routes. There are only 6 bolted routes at present on single towering rock midst sloping terrain. On climbing the tower one can experience the beautiful view of the fields and coconut plantation on the downhill. Early morning or evening climbing preferred at Saraswathi area.
B. Ganesha Area
Ganesha area is 750m from Badami bus station towards North- East. The approach towards Ganesha area is little difficult and without proper guide, it is difficult to reach the spot. It is one of the most popular climbing areas with 28 routes. Climbing is possible at all time of the day because of the narrow shafts. Ganesha area is isolated and has great camping site surrounded by cliffs.
C . Waterfall Area
Not allowed ASI problem
D. Delux Area
Delux area is 1km from the Badami bus station towards south. It is famous for its long and overhang routes. It is suitable for all kinds of climbers. This area has a potential of 20 more routes apart from current 26 bolted routes. Approach to the area is also good. Apart from climbing the setting of the area is fascinating.
E. Temple Area
Temple area is 1.5km from Badami bus station towards the south. This area has the India's hardest rock climbing route Ganesha (8b+) and some project routes equally hard. This is also one of the most popular areas for climbers across the world. This area is suitable for all kinds of climbers, beginners, amateurs and professionals. Preferred climbing time is during morning and evening when the lsunlight is not too harsh .
F. Dyamamma Area
Dyamamma area is secluded from the city and is not known to many climbers. There are only 6 routes at present but has a potential for more than 20 routes. It is at a distance of 1.75 km from Badami bus stand.
G. Kannaragavi Area
Kannaragavi area is famous for its cave. It is 2.5km from Badami bus stand towards south- east. It is multi-pitch climbing area with 38m high walls. There are 11bolted climbing routes at present and has a potential for more than 30 routes. Climbing preferred during the morning.
Reference: Guidebook to Badami by Gerhard Schaar
GRADE CHART
Bouldering, Rapelling, and Trekking around Badami
Badami and its surroundings have a tremendous scope for exploration. its cliffs, deep canyons, forts, and temples can be interesting
Bouldering is a form of free climbing that is performed on small rock formations without the use of ropes or harnesses.However Helmet and crash pad is used for safety.
A activity of going down a very steep slope while holding on to a rope that is fastened to the top of the slope some rappelling (on secured natural anchors) to the discovery of mysterious red canyons.
Wide range of guided treks from Temple to Mahakoota duration 2- 3 hours, Bhootha Natha temple trek of half day , North to South area of full day can be a done, as on request by members desiring to trek.Start early before its hot.
Carry a bacpack, head lamp.torch with a water bottle and snacks if your going on a hike.
Best Season to Visit
November - March
Although climbing is possible throughout the year .Temperatures can get as hot as 40 C due to scorching heat of summer. Badami has the same season as Hampi which starts in November and ends in March. January is normally the coolest month. Even in January some climbs require climbers to start up early in the the morning for better conditions, rocks may get hot due to direct sunlight
Where to Stay in Badami ?
There are couple of hotels to stay from budget to luxury category as per your requirement. However, most climbing community opt to stay in Rajsangam Hotel .They are very friendly to climbers and even offer discounts if you introduce yourself as a climber.
If you are up for the challenge and willing to learn Climbing
Know about equipments Required ?
Rock Climbing Shoes allow you to stand on much smaller pinch holds than you can in your shoes and offer far superior grip when using friction-based types of footholds
Climbing Powder Chalk allows you to remove sweat from your hands whilst on the wall, help to keep your fingers dry, increasing the friction you have with the wall and hence allowing you to grab smaller and more sloped holds
Commongly known as Seat Harness in climbing , offer wider sturdy straps for improved weight distribution, padding .Safety equipment worn around the waist They allow you to hook on your gear such as carabiners descenders and quick draws on them while you are climbing
Carabiner is a specialized type of shackle, a metal loop with a spring-loaded gate used to quickly and reversibly connect components, widely used in rope-intensive activities such as climbing
Ropes used in climbing purpose differ from regular ropes, that we use.A dynamic rope is a specially constructed, somewhat elastic rope used primarily in climbing.They come in different sizes.
Helmet is a safety used to protect your head.A climbing helmet is an essential piece of gear for outdoor climbing, when you have headed for top roping at the crag. Climbing helmets protect your head from both rock fall and side impacts
What to Buy and Where ?
A array of international brands of climbing Gear are available in the market/Online portals on Amazon, Sierra trading Post, to suit your size and budget. Few brands such as PETZL , BLACK DIAMOND, GRIVEL, DMM, LA SPORTIVA , SIMOND, ADVENTURE WORKS ( INDIAN ) , EDELRID are few you can trust. Functionally, the UIAA is the working group that defines high climbing standards for the CE Before you buy check for certified gear. Click on link UIAA to know more.
You may feel a pinch if you desire to buy Climbing gear as its expensive. If you dont like to invest buying it. Hire it and use it as per requirement.Check with Organisers.
How to train yourself for Bouldering and Rock Climbing ?
Body Composition
Crank up the power
Endurance Building
Body Balance and Flexibility
Samsara
Route 23, 24, 25, 27 of Grade 8a Location Temple Area The crag is about 2kms about south of the bus stand. There is a Sri Ranganatha Swamy temple from which this area is popularly known as the "Temple area". Samasara is for technical climbers. It is the hardest route in the area.
Key Facts your need to be aware of before you go for climbing ?
Rock Climbing, Bouldering acitivity can be safe if you approach with a right attiude and safe tools.In the mean while,it could be dangerous, if you attempt with carelessness.We all wish to have fun and carry back sweet memories. Here are few list of questions you need to ask yourself before venturing for climbing.
Body Condition & Physical Fitness levels
Grade & Condition of equipments used
Climbing Area and route
Knowledgeble and Certified Climbing Guides
Weather Condition
First Aid & Safety
Be cautious. Learn with the experts !
Doing it leisurely, communicating clearly, avoid over confidence , assumptions, double checking, being cautious is all what you need to do and enjoy your climb everytime.
If you stick to every piece of climbing safety advice, I recommend you to go out there and to give rock climbing a try.
Go with your buddies who are trained , experienced, responsible and friendly with you.
Or better yet, find a professional rock climbing guide service, such as Let Play Climbing located in Bangalore, to help you learn safety basics, knots, equipments, safety, as well as climbing techniques, that can help you minimize your risks and have more fun as you get into rock climbing.
You can contact Mr. Sagar Waddar Mobile no : +91 82961 - 54403
Local Guide for guided climbing and all activties in and around Badami.
What do Climbers say after spending a weekend in Badami !